[ad_1]
Summer may be officially over, but there's still time to eat outside. TreeHouse @ 51 has the most wonderful yard to catch the last rays of the sun.
Somehow [email protected] has eluded me so far, perhaps because it's so wonderfully tucked away in the posh part of London they call Buckingham Gate, and in fact, Buckingham Palace's rear garden is nearby.
It's also a few minutes from Victoria station, but that's another world. The Taj Hotel, all in two-tone brickwork and Days of the Raj exterior details (it was built in 1902) quietly embraces its secret courtyard restaurant and doesn't advertise it.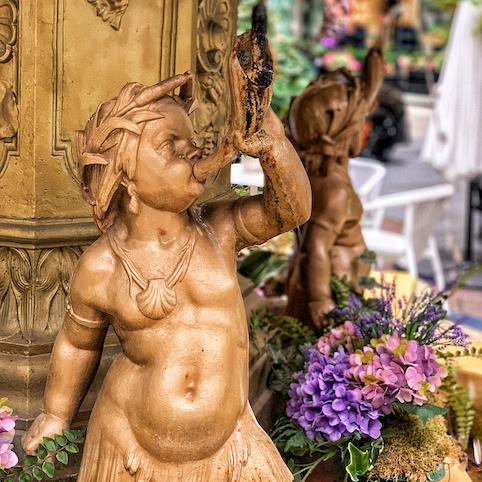 As soon as you find it, it's a jaw-dropping moment with a lovely central fountain depicting scenes from Shakespeare's plays gurgling pleasantly, matching the gurgling V8s of supercars that occasionally pass slowly outside the yard to drop off the hotel guests and guests.
The interior is very special, it's a glass dining room designed by Conran & Partners, but day or night the courtyard is the place to be when it's dry. We looked up at lunchtime, saw no dark clouds, so we sat down.
The staff are remarkably cheerful, mostly from India, the Taj is an Indian brand, and they are quite proud of their special space and with good reason. They also serve as bird scarers, as during the day an occasional pigeon may try to join the guests.
There are two menus, one is Hotel Standard, something for everyone, and the other is the Courtyard menu which is much more interesting, especially since it uses a Robata grill – a Japanese grill at the charcoal that burns intensely.
First we have salads, for P Bocconcini, summer squash fettuccine, sun-dried tomatoes, pesto, olives, a drizzle of balsamic vinegar, herbs and sea salt. It was a bit disappointing, the olives had seen better days and the balsamic was everywhere. The unadvertised mini mozzarellas caused some interest, but overall they gave the impression of not being freshly made.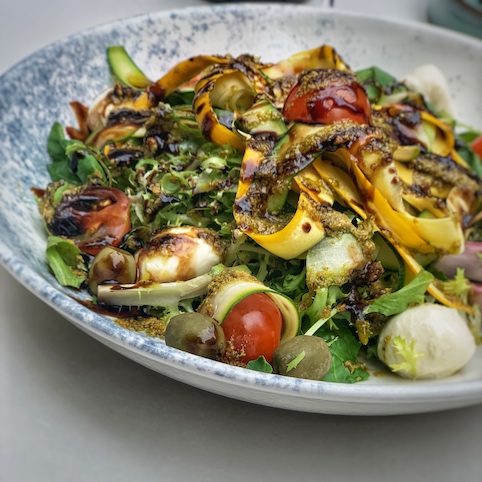 My own starter was more successful; advertised as Baby Roots, Edamame, Hass Avocado Red Quinoa and a Berry Yogurt Dressing, it wasn't quite that as the quinoa was the usual white version and there were no roots, just lots of fruit red. This, along with the berry yogurt on the side, made it look like it might have been a repurposed breakfast dish.
Still, the quinoa was cooked well, the beans and avocado fresh, and the berries excellent. There was a good summer atmosphere.
The main courses were much better, with sea bass fillet sumac, basil lemon and garlic confit, a bowl of well dressed salad and just enough spicy fries. Lots of great flavors here, and a really good piece of fish. Sumac elevates whatever it spreads its sour wings over.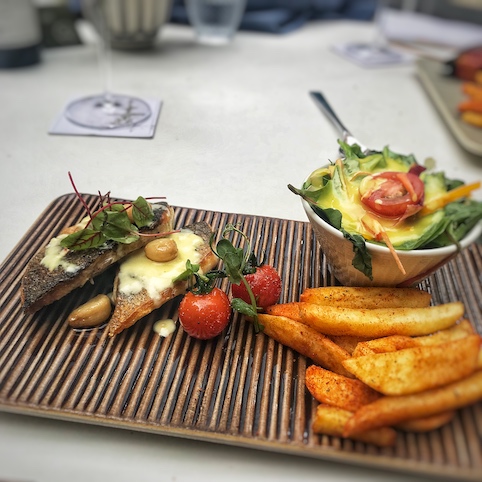 I was keen to stay vegan so I had to try the spicy tofu and breaded squash, Gochujang, it was really pretty good, the Gochujang (Korean chili paste) was awfully hot but that's how I liked it loves it and it's always tempered by the sweetness that comes from the cooked sticky rice that makes up the bulk of it. The patty squash were the stars though, picked small, they tasted, not watery, and the scorching heat of the grill brought it all out.
It came with the same fries and salad which was maybe a bit lazy and made the table look a bit identical.
It was all good though, mostly eaten al fresco, but the star of the show happened to be the last act, a mango cheesecake with mango chilli coulis.
The addition of chilli was what made it really work, a bit of a pretty strong chilli in this case, but it counterbalanced and accentuated the deliciously sweet mango in thick layers on the thick biscuity bass. It was a luxury dessert.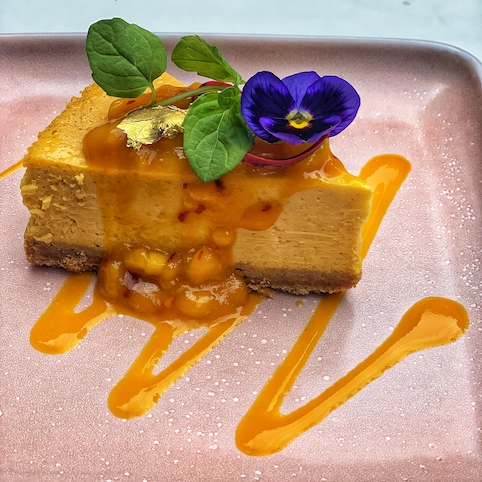 Treehouse @ 51 is a luxury place, not wildly expensive but definitely elegant and with a cuisine that goes beyond the hotel restaurant and is not afraid to mix European and Indian styles to good effect. There were many more dishes that I would have liked to try.
Apparently this mango cheesecake can be served with afternoon tea in the beautiful courtyard, and you'd be out of your tree not to try this.
[ad_2]
Source link