[ad_1]
All pub grub is not built the same way. Some are sublime, worth booking in advance and traveling miles to get there; some are the reheated or fried contents of various freezer bags and tossed onto plates. My job – and it's a real job – is to decipher what falls into which category. Take the Victoria at Oxshott in Surrey, for example: newly refurbished and reopened, and with Fat Duck alums at the helm, which instinctively feels like the kind of place you should force your partner to change into pants for.
Charles and I frequently shut the horns every time we go to a place like this, which claims to be a pub but actually serves "pan-fried" stone sea bass with keta caviar and pistachio smoked duck confit. "But it's a pub," he'll say, throwing a hand down his designer sweatpants. "No," I will answer. "They make wagyu flank steak and ribeye with bordelaise sauce. It's pants, real pants. And he will plod back to wardrobe like a man forced to finish the London Marathon in a vintage 140-pound wetsuit.
That's not to say the Victoria specifies some sort of official dress code; rather than some places just exude a certain level of genteel rightness. The dining room is staged in a rather dreamy way, like an old English inn with the bright allure of an expensive West End brasserie, all cozy furnished, with burgundy woodwork, low beams and an open fire. Chef-manager Matt Larcombe was formerly head chef at The Crown at Bray, and met manager Simon King when they both worked for Heston Blumenthal. There's a bar for locals and an extensive regular wine list that starts with a house white, a Grenache blanc, at £25, plus a "rare wine list" from which, if you really do one night you can blow £9,750 on a bottle of Napa Valley 1997 Screaming Eagle Cabernet Sauvignon. See? I told you this was a pants worthy place.
I hit booze on the head for now, leading to a life of bushes, kombuchas and seltzers, so they made me a "Light and Firey" with the non-alcoholic cane spirit and the ginger from Lyra (think dark'n'stormy, but without the tomorrow clouds). We sat by the blazing log fire as two beer thick oysters were brought to our table, perched in their shells with a puddle of seaweed-infused pale green mayonnaise. If you're someone who thinks they can't cope with oysters, frying the slimy burns really helps, I assure you.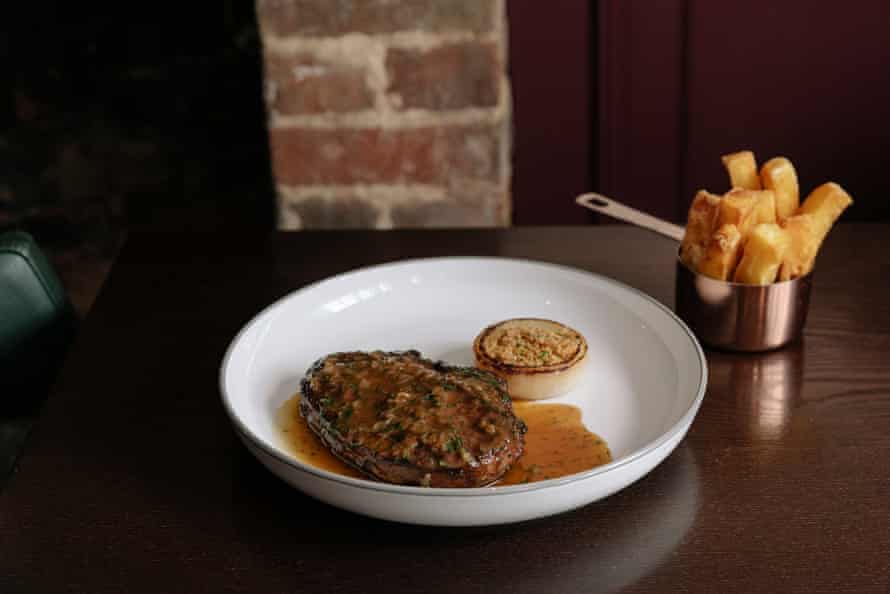 Beautifully presented pickled cucumbers arrive with a lightly seasoned homemade gentleman's relish, after which we share a plate of sweet, almost al dente beets cooked in salt, even prettier than the cucumbers. The food doesn't have to be a beauty contest, but it takes real skill to take a dull beet, then peel it, smoke it, pickle it, salt it, coat it in curds and sprinkle it with hazelnuts. , and finish with something that wouldn't look out of place at an afternoon tea cake stand at the Ritz.
There's a £19 fish and chips main course option, as well as this Trenchmore Farm flank steak for the same price, possibly to keep the locals from rioting, but then the prices go up quite dramatically, and at a rate that could letting anyone pick up the family dinner bill needing to be lying in a dark room afterwards. Beef wellington wrapped in a light, crispy but moist puff pastry with a rich interior wrap of herb duxelles, for example, cost £45 a slice. The fries, the chunky triple-cooked kind, were a plus five.
Now it has to be said that this was almost certainly the best wellington beef I'll ever eat in this lifetime, filled with a rare piece of beef similar in texture to chocolate truffles, but it's rare that I leave a restaurant in my asking if maybe we should have saved a few pennies by opting for the whole turbot with red wine and kale to share at £85. I know only too well, however, that restaurants – sorry, of course I mean pubs – like this one are surprisingly expensive to keep afloat. At least four different, smart and cheerful employees served our table, and the desserts are prepared by the kind of imaginative pastry magician who takes the concept of the Snickers bar and reimagines it as a big square of soft, sweet and nutty pasta. . mousse with airy chocolate pieces and a runny center of caramel. It's a very, very good pudding, and I doubt I'll eat much finer stuff this year. We also tried a £9 banoffee pie but it paled in comparison.
The Victoria at Oxshott is a very decent semi-formal destination restaurant that hides in plain sight in a village pub near Leatherhead. I'm sure the £40 Sunday lunch here would be an exceptional experience, especially for a special occasion. No jacket is required, but if you ask me…well, I always insist on pants.
[ad_2]
Source link