St Martin's House in Upper St Martin's Lane opened in March 2022 by Aspirational Brands – it is their flagship restaurant – offering all-day dining. Location wise it is ideal for theater lovers or anyone who just wants to be in the heart of the West End.
It looks elegant with its long glass front and black frames and lots of pink flowers providing an attractive pop of color. They say the floral displays are a nod to the days of flower markets that sprung up in nearby Covent Garden.
The dining room is available on two floors – the ground floor and the first floor is the mezzanine. The ground floor sports a long bar and therefore has a more intimate vibe.
As it was a sunny day the terrace was available and we decided to eat alfresco and listen to the sounds of Upper St Martin's Lane, especially the colorful tuk-tuks and their blaring pop music passing and watching customers head to the illustrious Stringfellows club opposite.
Vibe
The bright flower decor at the entrance and hanging above the bar adds a colorful touch to the dim lighting casting shadows on the dark wood flooring, the long dark bar with black stools and the hued banquet booths dark green. There are also interesting posters on the walls.
One floor up on the mezzanine, it's a similar scene, perhaps a little more unofficial with 50 covers, perfect for a Whodunit-type mystery.
food drink
The menu at St Martin's House specializes in British cuisine, prepared with locally sourced ingredients. There's a variety of steak tartare dishes, including the 48-hour bone marrow-braised short rib, steak pie, and a vegan brassica cauliflower steak flavored with chimichurri, sprouted broccoli, mashed potatoes. squash, crispy shallots and pine nuts.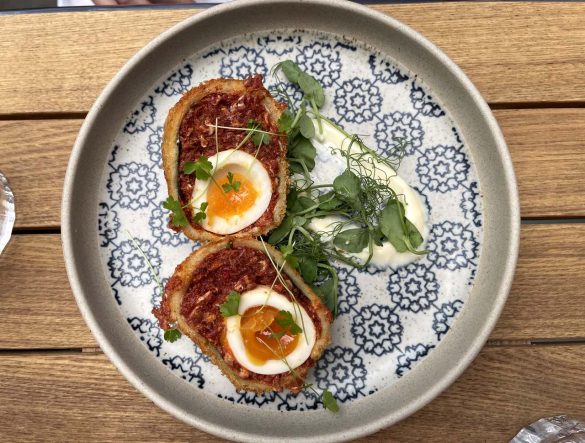 I started with the fruit jack cake – fruit jack usually has a very mild flavor similar to a mango – and it seemed unusual. Two cakes came served with lemon aioli and micro parsley. The cakes were naturally bland in flavor made interesting with the lemon aioli.
My partner was delighted to order the St Martins Scotch egg made with a 64 degree egg from St Ewes farm. Although it sounded traditional, the flavors were shockingly intense thanks to Dorset venison chorizo, caulfat and spinach replacing the more traditional onion stuffing and pork.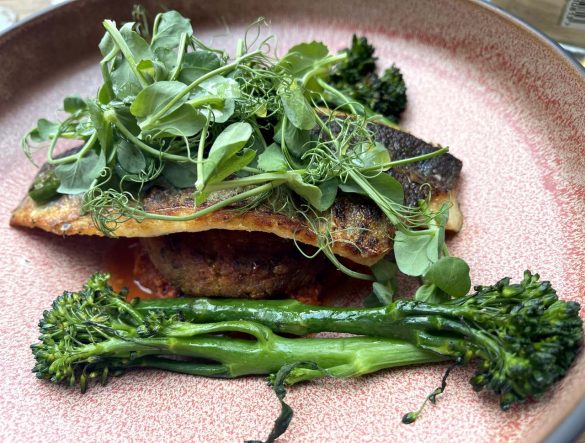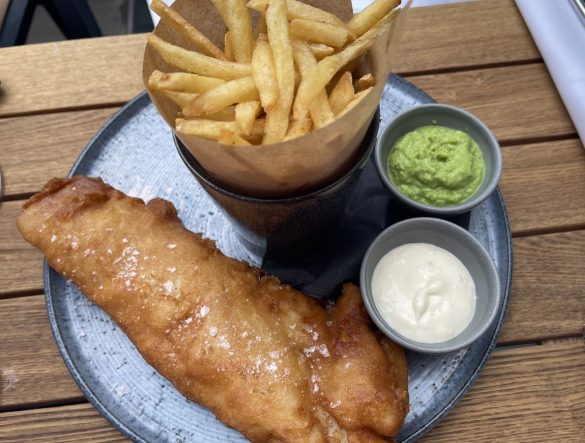 For the main course, I chose the seared sea bass, served with mashed red peppers and chorizo, potato and chorizo ​​cake, charred tender broccoli stems, pea shoots and lemon oil .
My partner chose the traditional British fish and chips with mashed edamame – a boiled pea lookalike, homemade tartar sauce, malt vinegar dust.
Both were very well executed, but it occurred to me that Chef Amanda has a fondness for chorizo.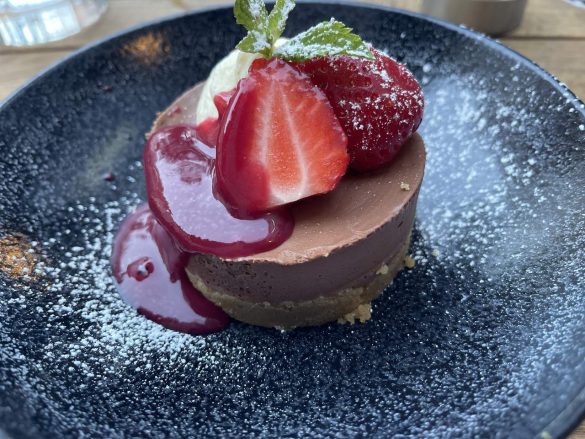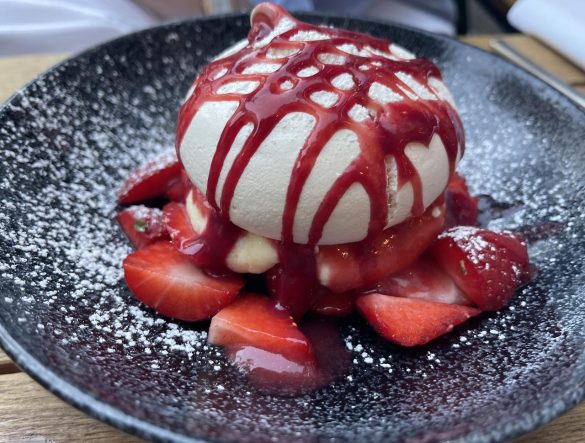 Desserts are always a must and we opted for the chocolate fondant and the Eton mess and shared them.
There's an extensive drinks menu with eyebrow-raising cocktails including the Violet Yuzu Margarita, Strawberry and Bailies, and Salted Caramel Espresso Martini. If only I weren't driving!
---
VERDICT: A pleasant place, very well located, ideal for convivial evenings with friends.
Check menus like St Martins House here.