Arts Club sessions at Clerkenwell is not a private club, but it does feel like some of the best of the 1980s and 1990s, when those places were secret and unsanitary bolt holes. Enter on a Thursday for lunch, then walk out flashing in the sun on Friday. What happened behind those usually unmarked doors stayed inside – there was no camera or phone back then, remember.
Over the past decade, however, almost all of those watered and time-consuming member clubs with their high-priced exclusivity have morphed into rather sterile and glorified common spaces that are now filled with people screaming via Zoom calls, filming Instagram content. or engaging in other very industrious stuff. The last time I went to a place that looked like the Sessions Arts Club, the only person who screamed was Keith Allen, maybe at Damien Hirst's. The place is, delightfully, virtually nowhere to be found, hiding in plain sight on a side street, its red door ajar and leading to a huge, imposing, rather fabulous courthouse that is both beautifully restored and, in places, dilapidated. chic and unspoiled, with stripped plaster, grand staircases, old service elevators, gigantic houseplants, velvet curtains and faded armchairs. It's decadent, a bit sexy, and definitely out of date.
I realize that almost all of this description so far will make some of you want to smash your laptop with a blunt object, but like I said, this restaurant, wine bar, and art gallery (but of course) is not a club anyway, and anyone can stand up. The vibe is part artists' common, part chic hotel, and it's the perfect place for the excellent and understated chef Florence Knight – previously best known for her work at Polpetto – to choose to set up a courtyard. Hers is a much imitated, but rarely surpassed, cooking style in which simple but extremely good ingredients are combined in unusual ways and without fanfare, making the cynic say, "Pffft – squid, calamarata and tomato?" It's just pasta with calamari. I could cook this. But there is a magic in the way Knight serves these silky rings of sweet and fresh squid and the almost identically shaped calamarata tubes (that's how this pasta shape got its name) in a delicious puffed tomato sauce. which elevates him to something quite mind-blowing. These are shapes of squid with added squid.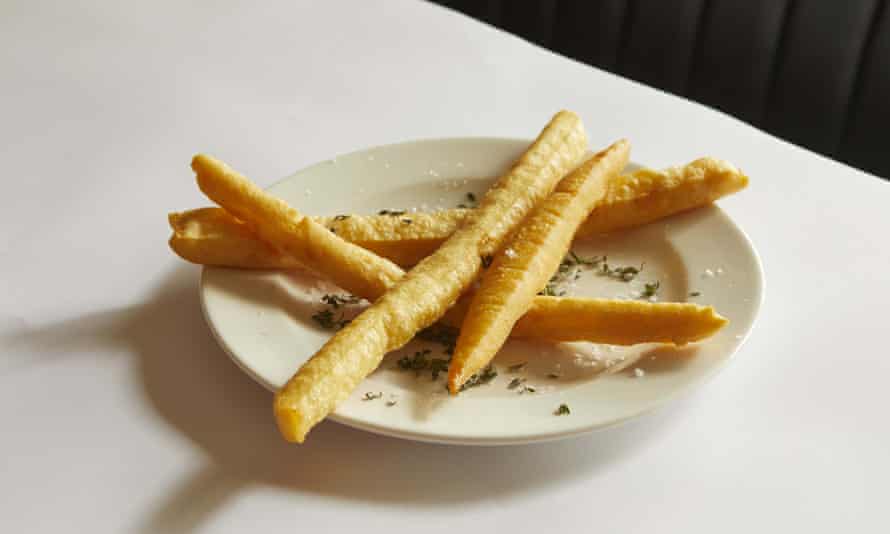 Panisses, those dull, fried chickpea chips that always disappoint elsewhere, are served at Sessions as long, crispy and delicious churros seasoned with lemon thyme and sea salt. My favorite dish featured delicate slices of dried sea bream in a weird but irresistible fig leaf oil with sorrel, which reminded me a bit of the delicious but expensive hand soap. I wandered thinking about this for days afterwards as there is nowhere else in the UK that serves it so I'm going to have to go back. Another dish with an impudently simple sound, the little aioli – or soft-boiled egg with anchovies, pink fir potato and mixed leaves – also made me a little bonkers. Heaven is a good anchovy. Satan is responsible for the bad. It was the divine kind.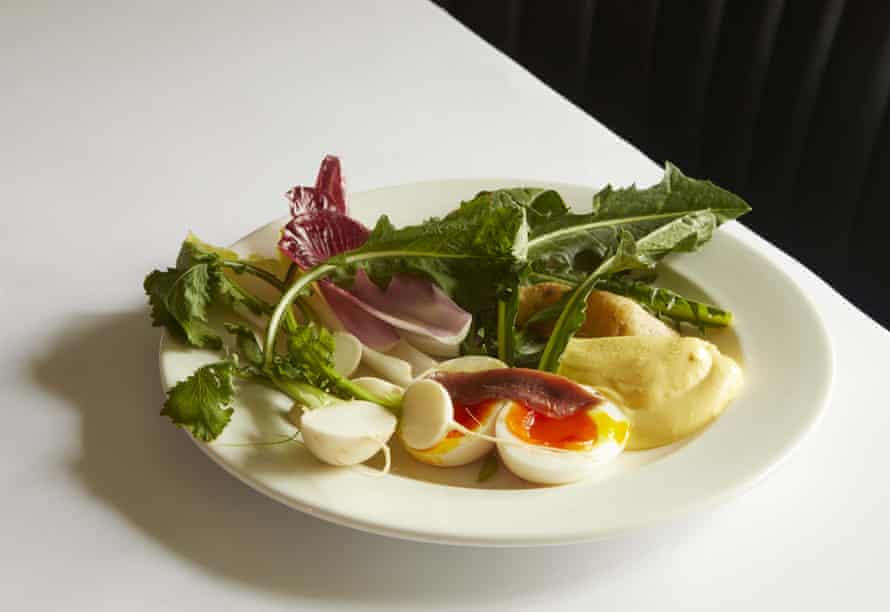 We sat on the mezzanine of the dining room, in an elegant gray leather and horseshoe cabin, drinking plum bellini and watching the service staff, each handsome, young and perhaps featured in the West. End anytime soon, but in the meantime apparently more than happy to serve bowls of steamed clams in riesling and a really good crispy candied potato with smoked eel, crème fraîche and eggs. On a Friday night it was all extremely convivial, like before any of the bad things happened; the kind of night that seemed impossible just six months ago.
Yes, Sessions Arts Club is incredibly chic and dramatically staged – it's like eating on the set of The cook, the thief, his wife and her lover by Peter Greenaway – and, yes, some prizes will make your eyes rotate as you scream, "Five pounds for a crab cakes? Only one kibble? Truly? What's in this kibble – gold bars? But what the place isn't is drab, corporate, with chaotic or remotely forgettable staff, and there are plenty of them these days. It takes special, post-pandemic bravery to take on the giant that is this courthouse and turn it into a multi-story pleasure palace that serves lamb with coconut beans, but Sessions Arts Club has made it happen. .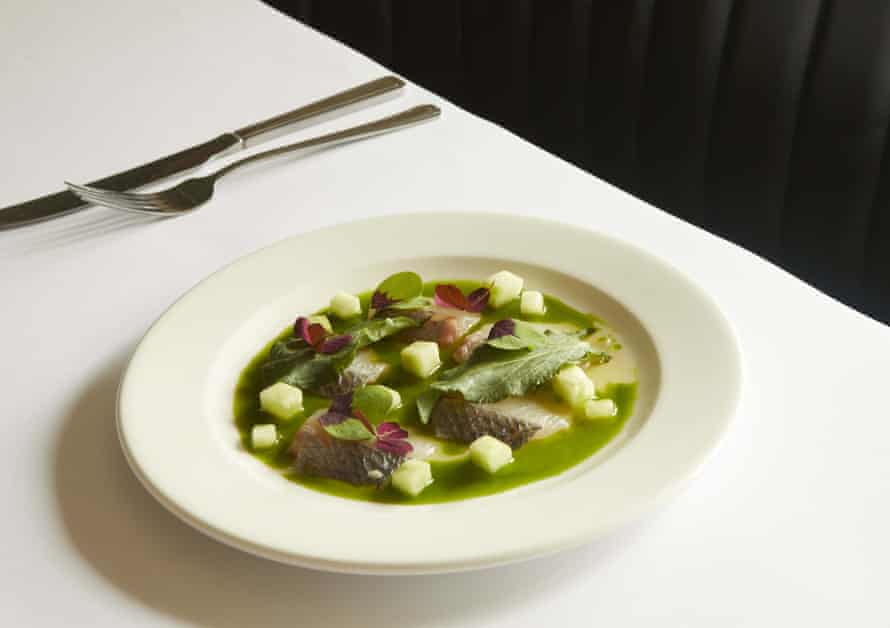 The pudding was a slice of exemplary chocolate pie and a few shared scoops of raspberry sorbet, before ending the evening by taking the elevator to the top floor to meaningfully contemplate the city skyline and watch the small but glamorous rooftop pool. It was kind of like a Duran Duran video where I throw my robe on and pitch up in the deep end with John Taylor and a glass of Krug while keeping our puffs dry. In reality, however, I got worried about the health and safety aspects and then quickly ordered a taxi, because when you remember the 80s, 10pm is very, very late.