[ad_1]
The area of ​​St James in London evokes a sense of decorum. It's mostly pukka around Buckingham Gate, where at number 51 you'll find the Taj Hotel and its separate restaurant, [email protected] Together they bring their style of adornment to the landscape.
Vibe
The entrance of [email protected] leads to a long sensual bar where perched on a bar stool, we started our evening with a cocktail. Later we moved into the restaurant with a stunning and eye-catching glass dining room. Architects Conran & Partners designed it, and the curved glass walls give the impression of an exterior-interior effect.
Diners have a lovely view of the courtyard as natural light streams in and bounces off the slate gray floors, elegant light wood upholstery, soft pinks of the upholstery, and muted green of the walls.
Any other day we could have stayed inside. However, that evening was warm with a pleasant breeze, and when we saw the rightly listed courtyard, so pretty with its blue and white tiled floor, surrounding foliage, hemmed in by the red brick buildings of the Taj and its stunning fountain central, we knew we had to go outdoors.
No problem; staff have been mobilized; we got our table and spent a heady summer evening drinking and eating to a soundscape of hypnotic running water and the happy, subdued chatter of other diners.
food drink
The bar's inventory is a sort of drinks who's who, well stocked with premium brands. [email protected] is proud of its signature cocktails designed to represent the seven "microbiomes" found in nature around the world.
I chose Bombindi, a spicy salty mango, ginger and tangerine, whiskey cream served in a glass that looks crushed like an abandoned beer can might look tossed. It's a nod to the cleanup of the Versova community beach in India.
My colleague, a Dirty Martini fan, opted for the Bummock, named after the bottom of an iceberg. It's super chilled Tanqueray 10, stuffed olives and a frozen layer of flavorful umami. It was created to honor Antarctica and its extreme biome.
The menu of dishes is partly designed for sharing, and we opted for the three signature small plates to start. These were the Desi Scotch eggs made with spiced lamb chop the central egg and served with spicy mayonnaise and mango chutney and the Sabich Taco, warm eggplant pita bread, potato, peppercorn hummus, egg and pickled cabbage.
Both were great; however, the star of the show was the burrata and kale chaat – fried kale, Italian burrata, mint and tamarind chutney, onion and tomato salsa. It was a sensational mix of crunch, sweetness, sweetness, saltiness and lots of acidity. So I will have to go back soon.
We had no idea how these sharing plates would be filled, and the scattered Stroganoffs and Bao Bhaji were on their way. The stroganoff was a hearty and savory mix of Premier Angus, onions, chive creme fraiche and mushroom pâté. Bao was a lightly spiced vegetarian dish of mashed vegetables and potatoes.
I will never know how we ate so much and still found room for dessert.
It must have been the attraction of flavors and the clever staging. The apple mousse was shaped like a green apple covered in green chocolate, and the masala tea creme brulee had a distinct taste of masala under that crunchy caramel coating.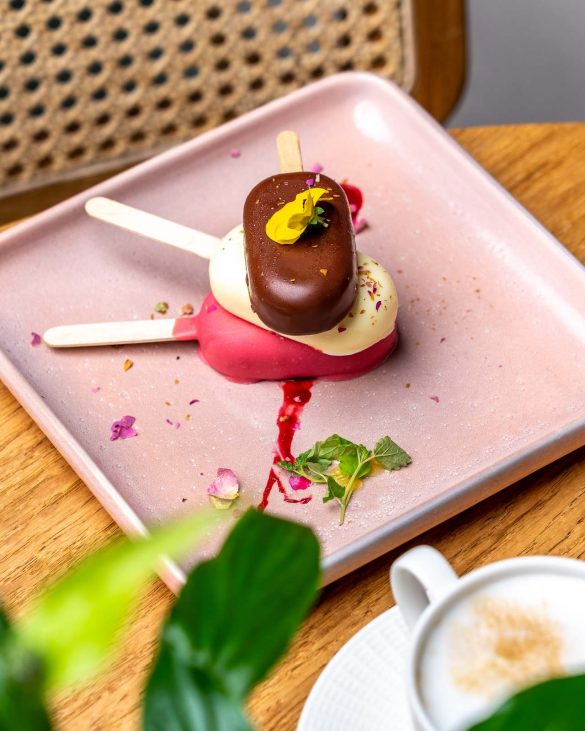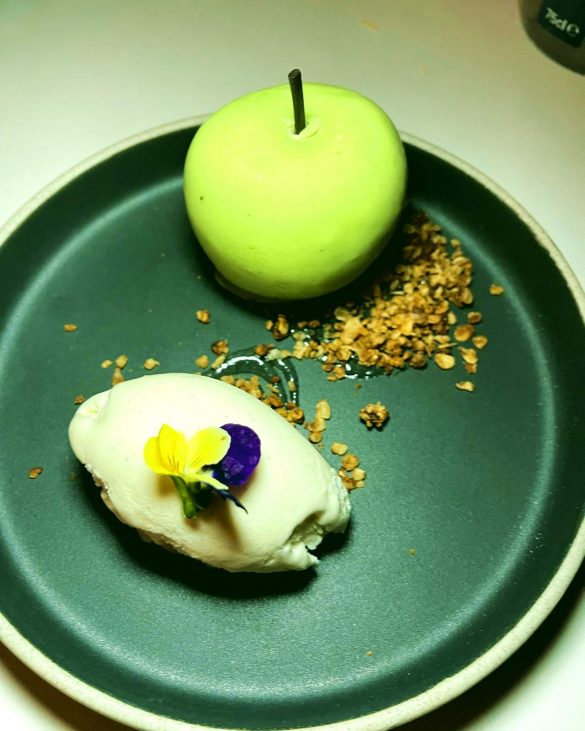 Still, I was craving dessert again when I saw the trio of magnum-style mini parfaits on the next table. It was rose and strawberry, orange and cardamom, white chocolate and yuzu and they seemed to be in taste heaven.
There is a nice wine list, and we shared a delicious Petit Viognier. We eventually left the restaurant a little more worn, agreeing it was a place to return to with friends.
---
VERDICT:[email protected] is a keeper – one of those restaurants that should have a place on your list of must-visit restaurants where inventive cuisine, great service and a relaxing ambiance are assured.
More information: Check [email protected] here.
Address: 51 Buckingham Gate, London SW1E 6AF
The [email protected] is open all day:
Breakfast: 07:00 a.m. – 10:30 a.m. (until 11:00 a.m. Saturday and Sunday)
Lunch: 12.30 p.m. – 5 p.m.
Having dinner: 5:00 p.m. – 11:00 p.m.
Bar: 12.30 p.m. – 00.00 a.m. (until 01.00 a.m. from Thursday to Sunday)
[ad_2]
Source link