[ad_1]
Dundee is uncharted territory for me on most fronts. If you were to ask me a question relating to the politics, geography or current affairs of the region, the probability that my answer would be correct is slim. Very slim.
However, I like to think that the food and drink scene is one I know quite well. Not a lot, but enough.
I've heard fantastic comments from co-workers who mostly talked about it. Much like Granite City, where I reside, it seems to grow and grow.
For those who haven't heard of the event, The Food and Drink Awards Menu recently took place (after a two-year hiatus) at the Old Course Hotel in St Andrews.
It celebrated the best culinary ventures in Tayside and Fife and featured five delicious dishes from five top chefs – and I was lucky enough to have the pleasure of attending. Special thanks to Chef Derek Johnstone for producing without a doubt one of the best desserts I have ever indulged in.
I bumped into familiar and unfamiliar faces, danced the night away and was inspired, to say the least, by so many people working in the hospitality industry that I met.
You'd think that after devouring a five-course dinner, you wouldn't feel so hungry the next morning. Well, think again.
'How about The Barrelman?'
Dundee city center is like a maze to me. Considering it's been three years since my last visit, I've given myself the benefit of the doubt.
My colleagues and I were after a few scran the morning after the awards show. With the support of independents always in mind, we set to thinking.
"How about The Barrelman? said Julia Bryce, Food and Drink Team Leader. The eyes of the menu editor Brian Stormont alight. It has been decided.
And it turns out that The Barrelman, located on Commercial Street in Dundee, was shortlisted for Bar of the Year at menu prices. Even though I didn't know anything about the company at the time, I had very high hopes.
Initial Thoughts
The space reminded me of Aberdeen's Littlejohn Street bar, Six Degrees North – laid back, cozy and rustic. Not sure if their Dundee based bar (Six Degrees North) has the same atmosphere.
Julia, Brian and I were joined by Brian's daughter, Cari, and Mariam Okhai, another member of the Food and Drink team.
There were plenty of spare tables. However, there were a few families, couples, and individuals scattered around the room.
Basically, it wasn't uncommon, which made me happy. I find fewer things more uncomfortable in a restaurant than an empty restaurant.
The food
The barrel prides itself on serving fresh Scottish produce, from a range of craft coffees and craft cocktails. Our visit was mainly focused on fine dining – the brunch offering to be exact, which is served daily from 10am-3pm.
Although the options are plentiful, it didn't take long for us to choose our dishes.
Some were heading for a stellar soup and sandwich combo, while others opted for jazzy-sounding modern plates.
Brian chose a brisket sandwich (£10.50) with soup of the day, peas and ham (additional £2.50).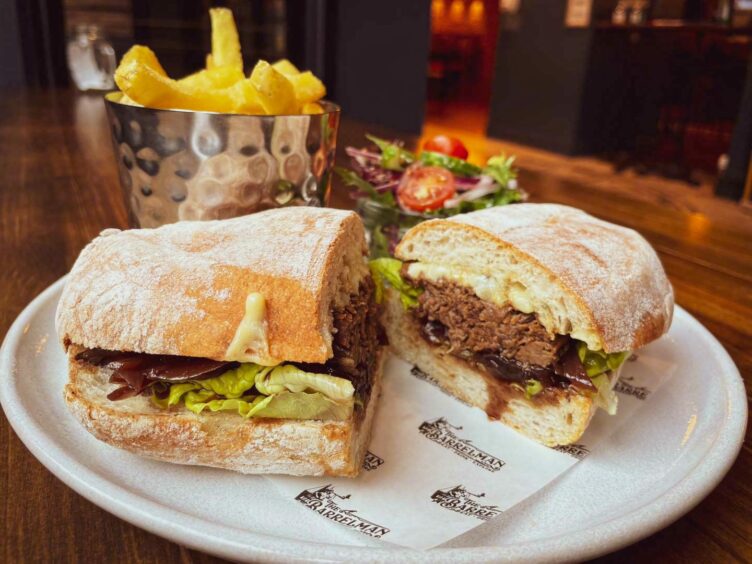 The soup was presented in a cup rather than a bowl, a concept we all loved with Brian describing his plate as "fancy soup and a bun". It wasn't too salty on the taste front and boasted a warming peppery kick.
His deluxe ciabatta sandwich was overflowing with beef brisket and caramelized onions that complemented each other perfectly.
But the winning combinations didn't end there, as another sandwich was ordered – a barbecue chicken toastie (£6.50).
Wedged between two thick slices of white bread was an assortment of crispy chicken smothered in tangy barbecue sauce and a layer of creamy melted cheese.
Cari loved the sauce and polished her plate. I did the same with mine.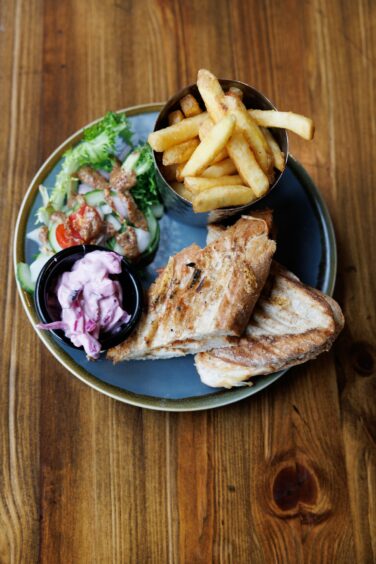 I was looking for something healthy and filling, and I knew I would get it at Barrelman. There was something about the vibe of the bar.
It was a cross between beer battered fish and chips and Barrelman steak pie. Pie (£13.95) prevailed.
Rather than my steak – which had been drizzled with a thick, rich gravy that had a bright, appealing sheen – being encased in batter, it was instead perched in a bowl and topped with it.
I loved this because it meant I could add my toppings, including the vegetables (with a nice light crunch) and the mash, to the bowl and eat all the components in one.
Beautifully moist, the steak tore easily and was incredibly tender. The crispy puff pastry was golden brown. Both melt in the mouth.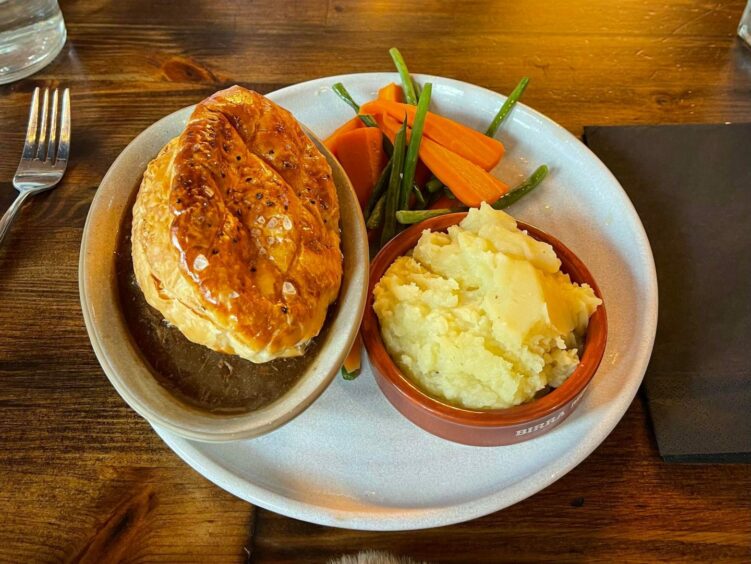 I opted for the mash over the fries as a pie dish isn't complete without it, in my opinion.
It was creamy, smooth and had a strong buttery taste – all the qualities of a stellar mash.
Beef bao buns (£9.95) and fish tacos (£8.50) were the two remaining dishes.
Both portions were relatively small. Luckily, my colleagues, Julia and Mariam, weren't too parched at the time like yours.
Giving me their feedback, Julia enjoyed the two beef bao buns – topped with sesame seeds – but thought the teriyaki flavor was lacking.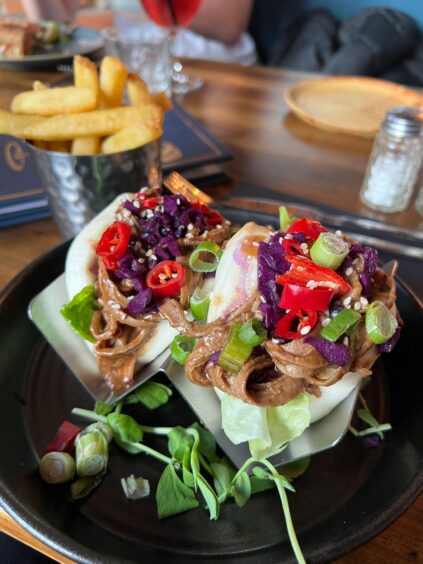 Chopped red peppers and spring onions were also included, giving a spicy touch and enhancing the dish. She felt that the buns, which were mild in taste, would have been bland without them.
Nonetheless, the buns and the beef worked well together. The meat was of good quality.
Mariam was also full of compliments.
The haddock in his soft shell tacos had a good level of spice. It was obvious even before Mariam got home as the warming aromas were so strong.
However, the tacos had been topped with chopped chili peppers which would have made this even better, as well as spring onions and watercress.
The topping also included chipotle mayonnaise, pico de gallo — a type of salsa commonly used in Mexican cuisine — creamy yet tangy marinated coleslaw, and avocado.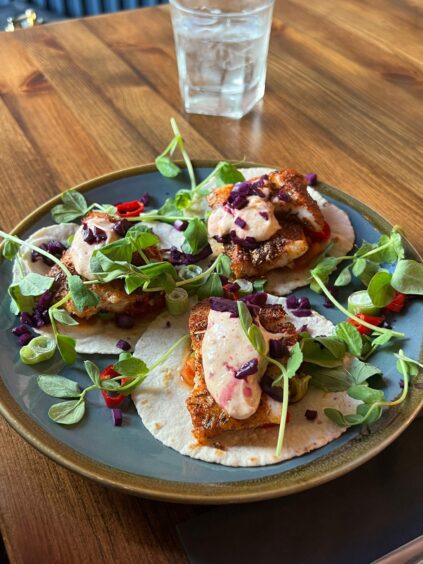 Sweet potato fries (£3.50 per serving) and regular fries (£3) were also to go. And we washed down our food with water, Diet Pepsi and orange juice.
The verdict
The dishes were visually appealing, especially the beef bao buns and fish tacos, and undeniably tasty.
There was nothing wrong with our variety of meats and the complimentary water we received when we sat down at our table was much appreciated.
Portion size was the only thing dragging down the food score. My colleagues who slipped into the bao buns and tacos left satisfied but wished there was more on their plates.
All in all, The Barrelman created the perfect setting for our catch-up and served up a top-notch screen in the process. Our servers were also friendly from the start – something that I think is lacking in many restaurants these days.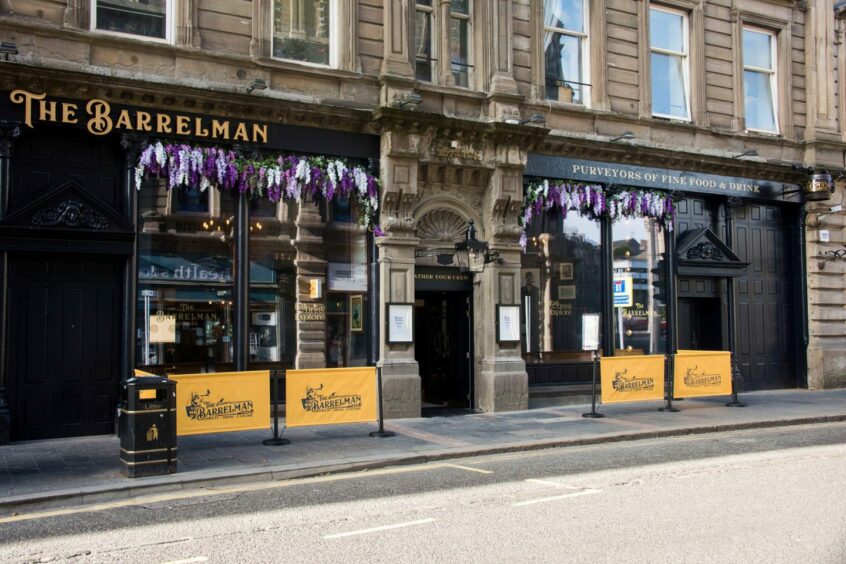 ---
Information
Address: 100-108 Commercial Street, Dundee, DD1 2AJ
P: 01382 800740
Price: £72.90 for five brunch dishes, fresh juice (orange) and four soft drinks
Scoring:
Food: 4/5
Performance: 5/5
Surroundings: 4/5
Already subscribed? Login
[Restaurant review: The Barrelman in Dundee]
[[text]]
[ad_2]
Source link