[ad_1]
Any discussion of Post House in the Old Village of Mount Pleasant has to start with its style, and it has it in spades.
Dark, rough floors in the dining room hint at the building's 126-year age, but everything above is fresh and new. The pearl-panelled walls, painted a glossy white, provide a clean backdrop for framed prints and photographs. From the paper mats under the opening cocktails to the cup of coffee accompanying the dessert, everything conforms to a tightly coordinated color palette – white with cheerful accents of red and teal, red block letters.
This clean, contemporary look is the hallmark of Ben and Kate Towill's design and hospitality company Basic Projects, which also operates Basic Kitchen and Sullivan's Fish Camp and has designed a range of high-end restaurants and commercial properties. in Charleston. This Job is radically different from the restaurant that once occupied the space.
When it closed in February 2019, the Old Village Post House had been a neighborhood staple for 16 years, but the yellow-walled dining room with blue ceilings and plantation shutters was starting to show its age. Chandeliers made from rope hinted at a dated nautical theme, which was amplified by mirrored portholes and model ships hanging in the small, dimly lit tavern out back.
The new iteration not only removes the "old village" from the name, but removed almost everything old from the frame. Basic projects website cites a goal of creating "the overall feeling of a 'pub with rooms' versus a hotel with a restaurant." This necessitated reworking the layout of the hostel's ground floor.
The bar has been moved from the rear of the building and is now front and center as you enter the main dining area. Gone are the clubby brown leather chairs, replaced by stationary high-back stools upholstered in the same teal hue as the font on the cocktail menu. Window shades gave way to half-height and quarter-height cafe curtains to let the airy rooms fill with natural light.
The result is a fresh, inviting setting with a distinctive style that carries over to the plates, which are adorned with three concentric red stripes and an elegant 'PH' stamp.
But what about the food served to them? Some of them seem carefully crafted to look good on these plates, like the market ceviche ($18) – floundered the night I tried it. The translucent slices are pure and pristine, and they're spread evenly across the red-edged platter and topped with red Fresno chiles and green herb extracts. A splash of coconut milk adds an unexpected richness to the zesty ponzu marinade – an impressive combination.
The Tarvin Shrimp Wraps ($18) are as tasty as they are pretty. Three piles of pickled shrimp nestle inside bright green Bibb lettuce leaves, and they have a pleasantly firm texture and a strong acidic bite from the brine. Chunks of pickled carrots, celery and onions add crunch, and a big splash of cilantro lends a sweet, herbal finish to every bite.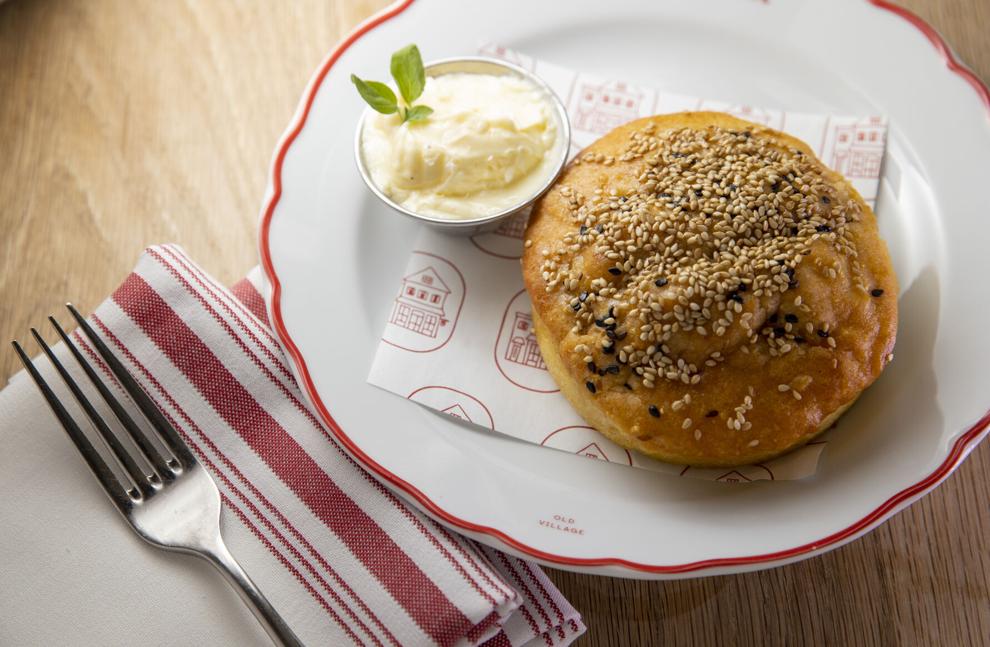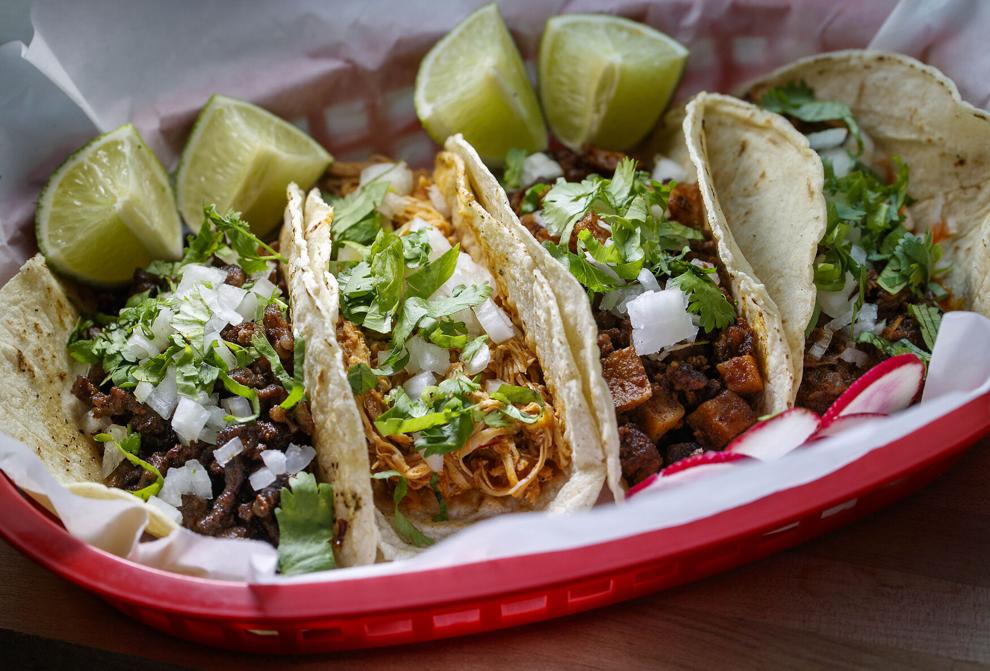 Other dishes, however, are rather unpleasant, especially when deviating from the regular menu to try the daily specials. A summery salad ($15) layers wedges of red watermelon over creamy feta cheese and finishes it with blobs of dark green pesto and a scattering of yellow and red cherry tomatoes. I could do without the sour punch of the tomatoes, but the mix of sweet melon, rich feta and zesty pesto is quite nice.
Less appealing is the thick, brownish streak of smoked eggplant puree that's spread along one edge of a white bowl alongside a jumble of tender gnocchi, chanterelle mushrooms and chunks of custard squash ($27) . The eggplant gives a nice initial smokiness, but quickly fades, and the rest of the flavors on the plate are smooth and sweet.
Quickly following bright and balanced combinations like shrimp wraps, dishes like gnocchi don't sag because of any particular flaw, but simply because they're a bit boring.
Market fish (striped bass when I tried it, $39) also falls into this camp. The fish is cooked well – crispy brown skin, a golden burn around the edges of the flaky white meat – but it sits on a bed of succotash which is mostly sweet corn, and a few canned cherry tomatoes and sweet rings of chili peppers. shishito don't liven up the pale yellow corn cream that lines the plate.
The corn flavor is much richer in the Cornbread Round Bun ($11), thanks to the coarse grains of the Anson Mills heirloom flour. A nice sweet glaze on top and a sprinkle of sea salt flakes on the ramekin of soft, sweet butter add a subtle finishing touch. Equally deft are the pickled grape slices and almond chunks that accent the green gazpacho ($14), a cool, smooth and rather unusual blend of cucumber and fennel that has a sneaky layer of sweet chili inside. .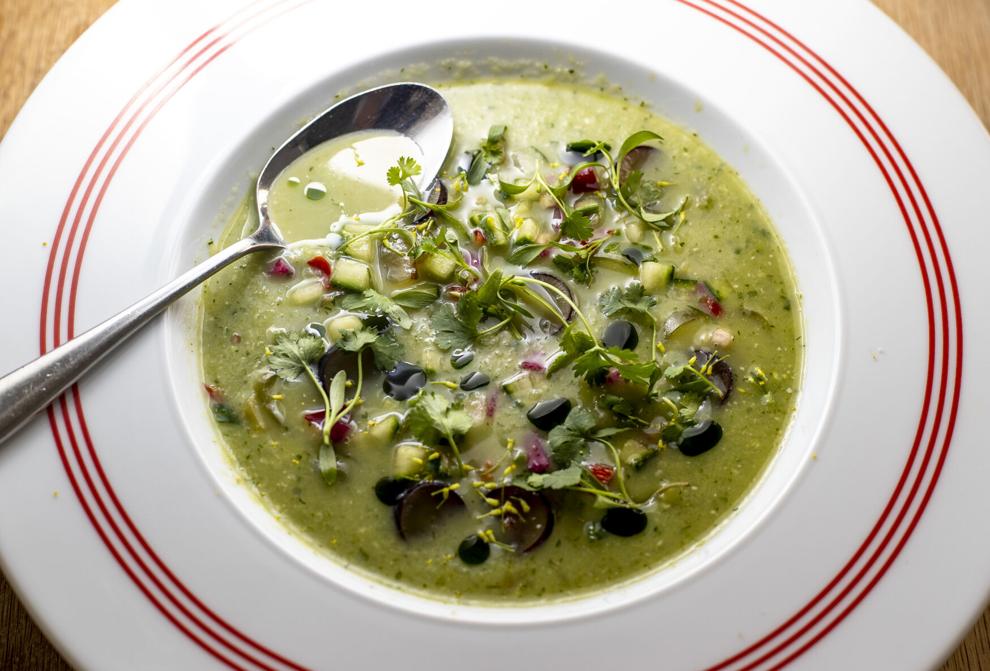 And finally, there's the paccheri nero ($29), a brash one-dish rock star. Small tubes of tender rigatoni-like pasta, dyed jet black with squid ink, are tossed with sautéed local prawns in a simple butter, white wine, Calabrian chili and garlic sauce , all covered with a generous layer of crispy breadcrumbs. The flavors meld into rich, herbal bites that are very garlicky in the best way and finish with a burst of spicy heat.
I wouldn't want all Post House dishes to have the same boosted level of flavor, but the boldness of the paccheri makes even the most shy plates pale in comparison. You can, however, finish strong with the restaurant's signature dessert: Southern Buttermilk Pie ($14). Although it's a small slice, it's intensely sweet with a thin flaky crust, and it's rich enough to share for two.
With spiced squid ink pasta followed by a slice of buttermilk pie, it can be hard to pin down Post House's new culinary identity. Southern staples like cornbread, succotash, and Carolina Gold rice mingle with global flavors like ponzu, Calabrian chili, red curry, and lots of cilantro.
The menu ticks all the essential boxes for an upscale diner in Charleston these days: raw oysters with "classic sides", crudo, beef burger, things wrapped in lettuce leaves. Local farmers and suppliers are carefully checked. A weekend brunch features mimosas and bloodies alongside bodega-style egg sandwiches and quinoa bowls.
Maybe we should just call it "contemporary American cuisine" as the menu copy does, and leave it at that.
After all, with its fresh and meticulous decor, the new Post House seems perfectly designed for our current Instagram age. Some substance, thankfully, lies beneath the styling. While that might not be enough to lure diners away from the big names on the peninsula, all the ingredients seem in place for the rebooted Post House to follow in its predecessor's footsteps and become a longtime neighborhood favorite.
[ad_2]
Source link