[ad_1]
This restaurant in a brand new theater puts on a great show, so don't wait until you see a play to participate.
All theaters should have their own restaurants. It's a weird fact that when you have the pre-theater menu at an independent restaurant, the waiters always disappear just when you want your bill and with the clock ticking to "show time".
Or maybe it's just a misperception, in the same way that trains always seem slower when you're late.
Anyway, we all agree that a restaurant theater is a good idea, so it's up the curtain on Stars, the brand new restaurant Soho Squareitself the first new theater built in Soho in over fifty years.
It's a modern space of course, located in the center of the building and with a double or maybe triple height ceiling above that gives the impression of looking backstage at a theatre. Wall-mounted spotlights create dynamic, ever-changing scenes, which in turn create a pleasant light ambiance on the tables and their rich red chairs.
The acoustics here are well dampened, no smashing cutlery, no loud conversations, no chair scratching and those are all good things. Also good is the chef Constantin Apostu who was at The Standard Hotelwhich has always been a cool place to stay for visiting creative types.
Its menu is a clever mix of cuisines because, much like a hotel restaurant, a theater restaurant must satisfy all tastes and often all ages. That invariably means at least one burger on the menu and Stars has it, the meat sandwich guy at the next table certainly looks like the burger business.
There's a set menu, available in the early evening (5-7pm) at £20 for two courses (£25 for three). As most shows will start at 7:30 this is a good option to have.
We go à la carte, reassured about the timing because we have seats for the evening play 'Merveilleux' (that's by the way). A "two-way" salmon entree – jasmine cold-smoked slices and a miso-dried piece – is generous, maybe even over-generous, but we can't complain.
Both salmon taste quite similar, and the smoked salmon is so thick that it literally resembles its partner, but it's a lively dish with ribbons of smoked zucchini, a nifty addition.
Scene P whispers how much she loves her beetroot and ricotta, a dish made with heirloom tomatoes – red, yellow and striped chioggia. We grow them all on our plot, and this dish makes the most of the earthy flavors and colors. The walnut adds texture and the orange juice balances the sweetness of the roots.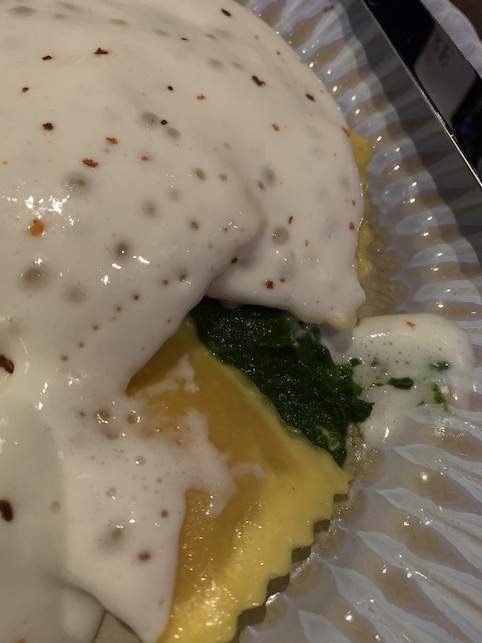 Good modern and lively stuff, and it continues with my pumpkin ravioli. These plump pillows come on a bed of spinach topped with what's advertised as parmesan mousse, but I'd call that "lots of cheese sauce."
It completely covers the ravioli. I don't know if the chef's hand slipped, but there had to be fifty percent less to allow the ravioli to breathe. These are very good ravioli, the pasta a little tough from possible overwork, but the pumpkin filling is a seasonal treat although a bit drowned in sauce.
All main courses are reasonably priced, although a dish of Crispy Skin Cod with quinoa is almost double the average at £29. We are intrigued by this, but not tempted. Instead, P sticks with fish, but the more reasonable grilled sea bass fillet with mashed peas and garlic-glazed rose apple potatoes.
This one has a perfectly crispy skin, always a sign of good cooking, and the mashed peas are bright and rather pretty. You can't beat the pink fir cone potatoes, it's good to see them offered in place of the similar, but more ubiquitous ratte. Another good dish.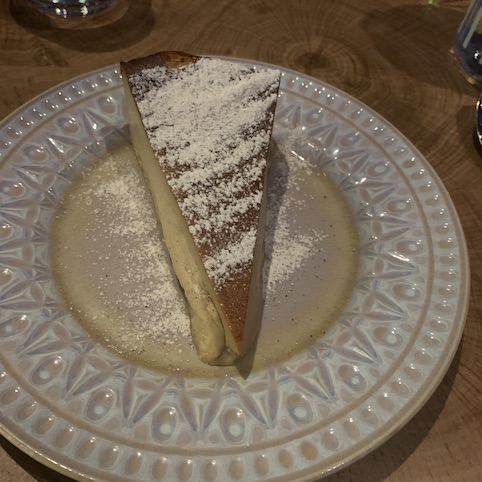 With the curtain up in thirty minutes, there's plenty of time for dessert, even if there's little room. The brilliant Basque cheesecake (their words) is actually as advertised. A recent invention, from the 1990s, the Basque cheesecake is creamier in the middle and usually has a "burnt" or caramelized top, and although the original recipe has mutated since the 90s, it should be slightly gooey. It hits all the points, provocatively bulging outward like a ripe camembert.
P's vegan oatmeal pie with raspberry caramel sounded pretty dignified, sort of an Islington breakfast, but she loves the chewy oats and fresh raspberry flavor and the meringue shell brings a cheerfully unhealthy sweetness, so it's a good dessert after all.
Stars hits all the targets it needs, with sleek modern cuisine presented without fuss and with a desire to please. I'm back for an encore.
[ad_2]
Source link