[ad_1]
By Roger Corbeau
Math was never my forte in school because it lacked context. Who cares what 10% of anything was when the percentage was nothing?
But applied to a great dining experience, something very close to my heart, it makes a lot of sense.
My culinary co-pilot and I have never been to the Hotel Du Vin, York, although it is relatively easy to find on this autumn evening at dusk. It's 6:30am and the rush hour stress melts away as we pull into the large parking lot and step into the elegant hostel. What a beautiful establishment, tastefully decorated, with lovely staff.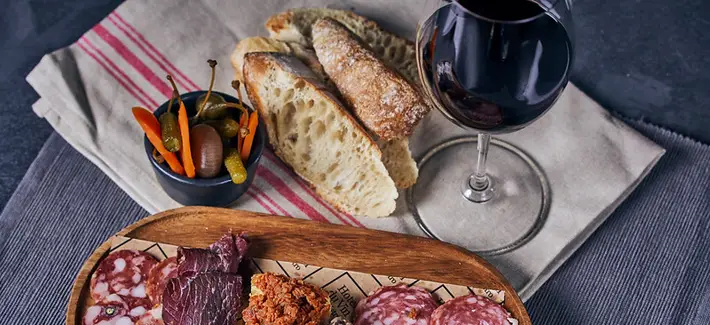 Once at our table, we browse the menu, but the lighting is a little too dim. A quick word with Jack, our excellent waiter, and we start discussing percentages. My theory is 40% lighting for an evening setting. Too much spoils the mood; too little and bettors find it hard to read the menu. And as the lights get better, so does the experience. In fact, it's getting a lot better, or maybe it's Lanson Rose's glass.
Rachel and I share a bowl of olives and a delicious focaccia starter, it's all going a little too well. My main course is a simple plate of breaded plaice gudgeons with more indulgent French fries, watercress salad, tartar sauce and one of my favorite things, lemon wrapped in cheesecloth. Nothing worse than picking lemon seeds out of your dinner, so obviously no such problem here.
Our attentive sommelier, Yantshi, is understandably keen to accompany our delicious dishes with the right wine, and she also does a wonderful job, although after a fruity G&T, a slim glass of Lanson Rose with my fish and I'm a happy camper. There are hints of rose, pomegranate and raspberry, which is very refreshing and goes really well with my plaice. (It goes very well with fish and salad).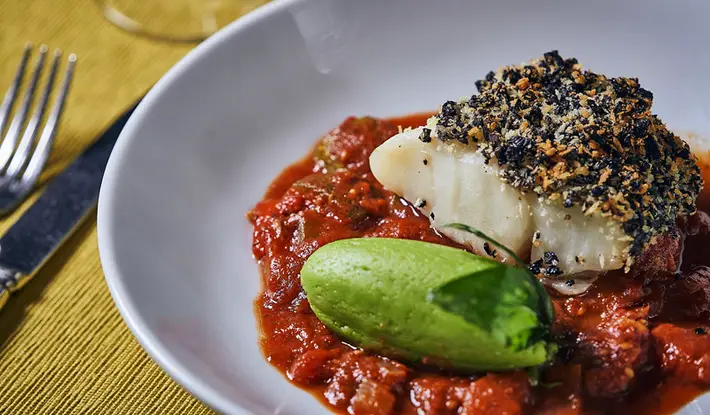 " Transported "
I love one of those all-night dining experiences, and if we had had more time I'm sure we could have had the right wine with every course, but sometimes less is more.
Rachel has a glass of Kendal Jackson Chardonnay, a California drink with hints of tropical fruits like pineapple, mango and a rich undertone of vanilla.
It goes very well with his pumpkin and sage gnocchi. His main course is delicious, but about 5-10% too salty for me. However, the pasta is absolutely perfect, as are the delicious green beans. They bring me back to one of the greatest misunderstood cooks of the seventies and the eighties, my much-missed grandfather, Albert, who grew all his own vegetables in his allotment, and his green beans were to die for. So like the classic Pixar movie ending RatatouilleI've been transported to many meals where he put green beans on a plate, and I wouldn't know how lucky I was.
That nostalgia factor is always a thread that ties us to great meals, as is great service.
Equally captivating was the cool jazz soundtrack that accompanies our meal. Muzak can be boring if done poorly, like the time I reviewed a hotel north of the border and the same awful song played on repeat until I begged the staff to turn it off. No such problems here.
So I leave out part of my main course because I've had my eye on dessert all along, and when it comes the Pistachio Craquelin Choux Bun with Pistachio ice cream does not disappoint. Rachel's apple tart tatin with vanilla ice cream also meets with approval, which is no small feat as she is one of the pickiest eaters in Yorkshire.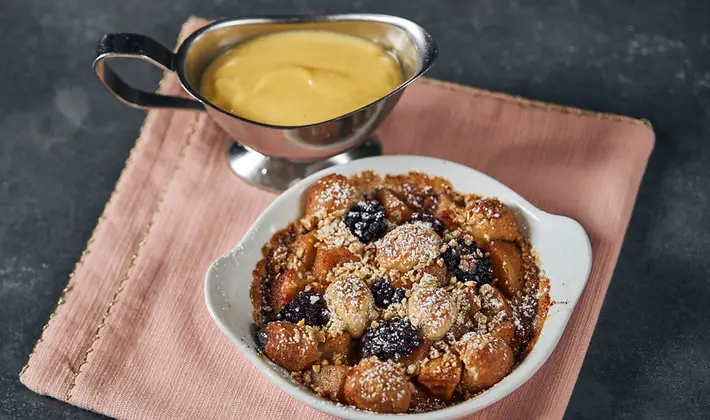 "Glorious Age"
Before we wrap up, we are given cappuccinos, which the friendly waitress Lydia claims are fantastic, and she's not wrong. Good banter is everything in a good restaurant, and the conversation with Lydia and all the staff at Hotel du Vin certainly ticks that box. It's also a pleasure to meet head chef Stan, who I imagine feels most at home in the kitchen creating culinary masterpieces, but he deserves a good solid handshake.
Autumn can be a melancholic time of year as we reflect on the summer that has passed us in the blink of an eye, but it is also a glorious time, especially if we put in the effort and explore new places where we would prefer to hunker down and hibernate. . A good meal obviously adds to the experience, and a few hours at Hotel Du Vin make our day 100% better.
We look forward to returning one day and tasting more of these awesome wines, delicious menu, and Lydia's terrific cappuccinos.
Thank you very much, as they say in York.
To book: hotelduvin.com/locations/york
[ad_2]
Source link