SSome restaurants lurk in my journal for weeks, instilling mild anxiety rather than happy anticipation. Devil was one of those examples. It started with the name, which does not whisper equanimity, reverie or gluttony. Fiend, in my opinion, is a demonic, possibly green, gnome-like being, waiting in a dark alleyway in the name of Satan himself. You would need to be a specific type of chef to set up a rather dark and weird restaurant on Portobello Road and call yourself Devil.
Chris Denney is that person. A round-up of the interviews the chef gave about his previous business, cult hit 108 Garage, reveals some refreshing unfiltered quotes. "He speaks as he finds," as my old grandmother would say. Fiend website simply emphasizes the idea that one is about to be ambushed. This, I read, will be a "provocative, rebellious and inspired" evening of eating "kurobuta belly with eel and rock samphire frosting" or "scallop with yellow sauce and mango kent" or other phrases. ringing with Ks and Zs sitting on it the menu looks like barbed wire, not even trying to sound delicious but rather intriguing.
Fiend is "alive, bohemian" and in the "epicenter" of Portobello. The bohemian word used in conjunction with restaurants always sounds the alarm bells, as I imagine a Helena Bonham Carter guy smoking in a room that smells of stale orchids and cat piss. However, at Fiend you can consider bohemian to mean diners should be prepared to be relaxed, groovy, and open to everything, or, if you're over 35, able to pretend "groovy" in short, bubbling bursts. , while rearranging your bifocals to read the menu in a room darker than Margate Shell cave. I mean, literally: Fiend's walls are black. Like when Adrian Mole painted on his Noddy wallpaper. And in that darkness appears the manager of the restaurant, who is absolutely adorable and very enthusiastic, while also looking like a character of Tim Burton who would be deep in A flock of seagulls.
If you are already exhausted from the few minutes you spent going through this review, may I tell you that I spent three hours there, waving my phone torch while saying, "I think that says lamb heart agnolotti with mustard dashi? But does it really make sense? It looks like something Louis Cyphre ate in Angel Heart. The answer is yes: it was a fragrant bowl of bowels in a broth with a handful of pasta, more like a Japanese version of pierogi. A tasting menu is available, but my guest Hugh and I chose the menu. Chips of frozen wagyu salami wafer appeared, followed by a hot brioche and chicken liver parfait. For me, the star of Fiend's show is a slice of celeriac in salt, perhaps the most delicious thing I've eaten this year, topped with a weird, earthy, addicting concoction that Denney calls "granola." with pistachios and mushrooms "and finished with hollandaise sauce.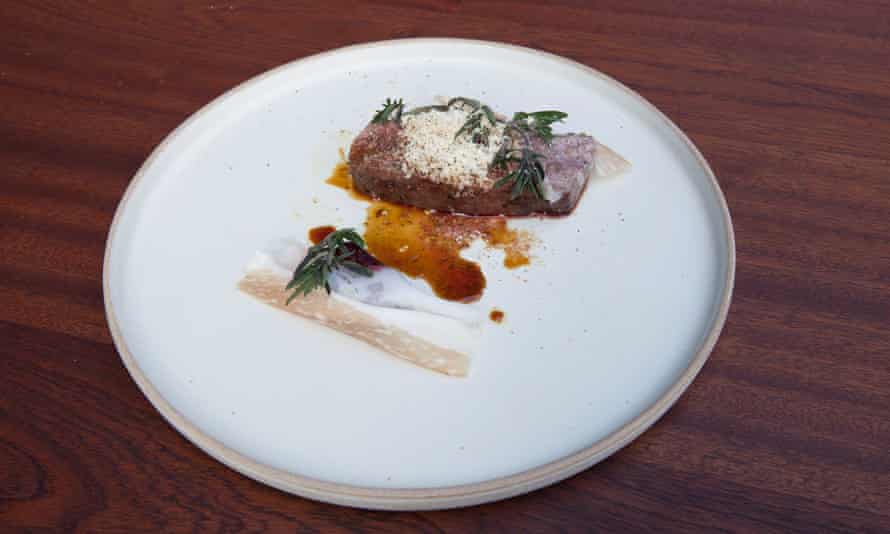 The portions are small, the carbs and weight are thin on the floor. Dried sea trout, for example, is a subtle, melt-in-the-mouth bowl of pink fish, goat yogurt, puffed rice, horseradish, and raw apple. A single, heavily titivated, burnt leek is littered with fluffy black radish and a gochujang vinaigrette. Cucumber dill sorbet palate cleansers are a life-changing curiously. A main course of venison with prunes is Gothic in the extreme, all the more so for eating it in an elegant West London bat cave.
In the dessert menu, we chose the coconut and pineapple rum savarin. This is a dangerously alcoholic piña colada rum baba – which I have never seen served in the UK before. Another scoop of rich and textured black cherry sorbet was also outstanding.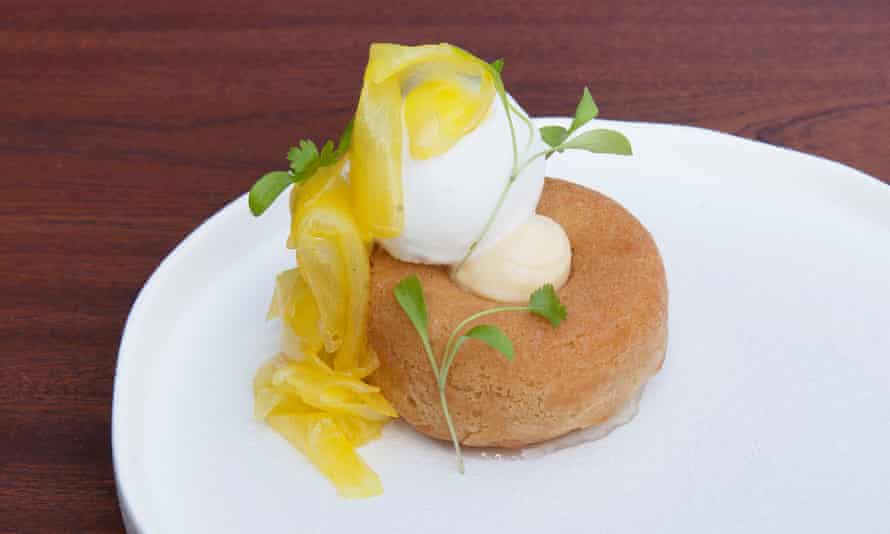 I'm not convinced Fiend is the perfect setting for Denney to come up with this weird, confident, experimental, and definitely delicious menu. Obviously, he's a passionate character, and this menu of his wacky projects would be more suited to a 10- or 12-seat jewel chef's table-style business, where he could talk and display all the crazy techniques and processes. Instead, Fiend is a spacious two-story venue with an open kitchen set away from diners. There is a large cocktail bar downstairs, currently out of use. The entrance to the restaurant has a long bar with seating that no one was using on the evening of our visit.
However, I know Denney is a huge talent and his team is one of the best in the country. I left Fiend strangely hungry but stuffed with ideas. The menu was smart, focused, deliciously erratic, and a bit confusing. Fiend appears to be sidetracked by a nefarious presence. The more I think about Denney's cooking, the more it suits me perfectly.